One of our most popular items is our Handcrafted PotteryChicken Roasters.
The real name for them is Vertical Chicken roasters, and have been made famous when people Cooking the birds in aluminium pieces with the middle filled with beer.
Thus the Beer can Chicken Cooker 
Here is the 2019update
Handcrafted Chicken Roasters are the ultimate way to Cook Chicken Small Turkeys (under 4kg) and Duck.
The birds cook slowly on Barbeques or in the Oven.
The natural fats for the birds collect in Roaster Base leaving a moist, delicious bird.
What about the Beer
The Roaster comes with the centre just like the Aluminum ones but guesses what?
You don't need to put beer in there, in fact, you can add and fluid you like 
Try Wine, Fruit juice, barbeque sauce or a mixture of Soya sauce and Peanut sauce watered down.
It is really up to the cook to use their imagination
The reason you add fluid is for the flavour to  permeate the bird from the inside
 The real flavour secret
The best-kept secret is flavouring the outer skin of the bird. 
Here any garnish you can think of will work and flavour with the moistness of the bird will give spectacular results 
In this picture, we have done  a Mohito lime and season salt garnish  Cook it at 350 DF for max 2hours
Other Uses
Customer tell us they  love to cook their  vegetables and potatoes in the roasters  with  bird
When they use  Cook duck, it is a great way to collect the Prized duck fat
Doing Earth  Roasters  come in  different Colours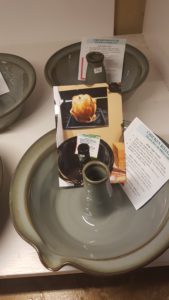 Check out our selection in outYarrow Gallery